2) Use the rule of thirds :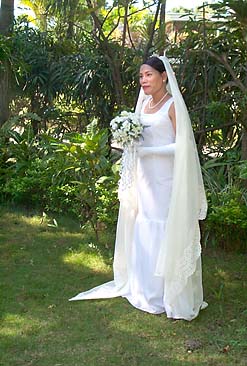 If you are shooting a portrait, put the eyes even with the upper third of the frame whether it is full length or close up.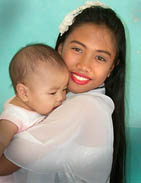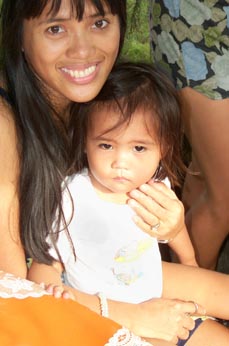 If the shot is an extreme close-up you may need to crop off the top of the subject's head to put the eyes in the upper third. Cropped in this manner the eyes, not the forehead are the center of interest. In this photo the visual center of interest was between baby and my wife. Ideally the heads, which are two now separate centers of interest, should have been closer so the eyes were on the same level. The white shirt of the baby is also a big distraction.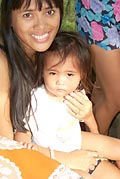 Before cropping and editing. Note how the distracting white lace in the corner was removed and the hue of the shorts in the background was changed to match the adjacent green tone.

Goto Next Page >

Goto < Previous Page

Goto Class Outline

Goto super.nova.org my home page.